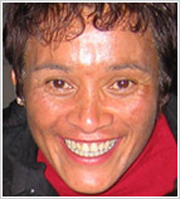 Hi there, I am Maxine of Muriwai Massage.
I am currently operating a therapeutic and sports massage clinic from beautiful Muriwai beach.
I also work with clients at the Stulhmanns Osteopathic Centre on a referral basis.
I have a background as a health facilitator in weight and lifestyle management and in the fitness industry with instruction and training. Over the years I have worked with various local gym franchises including Les Mills, Curves, Don Olivers and World Gym.
I graduated from Faculty of Health Sciences – AIT, Akoranga Campus, North Shore with a certificate in exercise science and fitness centre training and also certified from the Auckland College of Massage in Khyber Pass, Newmarket.
I have been contracted as co-ordination and fitness trainer with Bright Sparks programme for children and young adults on the autistic spectrum and invest time to work privately one-on-one. I have many adventures in the spectacular Muriwai Beach wilderness golfing, cycling and surfing.
Click here to know more about Health and lifestyle management
Click here to find out how Autism is no barrier to enjoying the great kiwi outdoors lifestyle